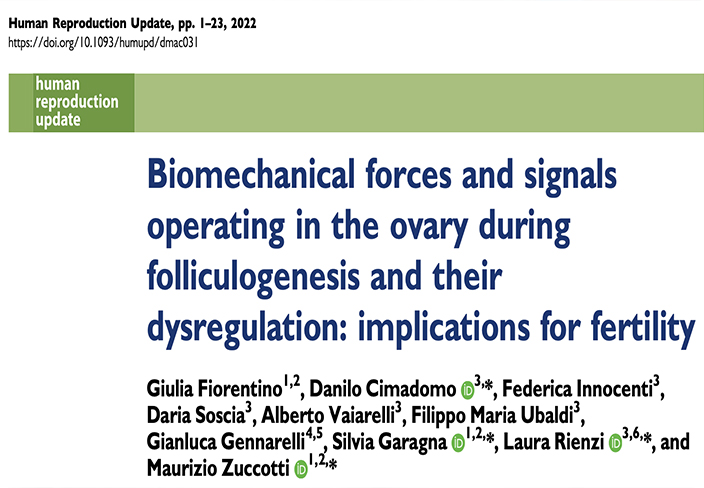 Giulia Fiorentino, Danilo Cimadomo, Federica Innocenti, Daria Soscia, Alberto Vaiarelli, Filippo Maria Ubaldi, Gianluca Gennarelli, Silvia Garagna, Laura Rienzi, Maurizio Zuccotti 
Human Reproduction Update, pp. 1-23, 2022 – dmac031, https://doi.org/10.1093/humupd/dmac031 Submitted on November 27, 2020; resubmitted on May 12, 2022; editorial decision on June 22, Published: 20 July 2022
Abstract
BACKGROUND
Folliculogenesis occurs in the highly dynamic environment of the ovary. Follicle cyclic recruitment, neo-angiogenesis, spatial displacement, follicle atresia and ovulation stand out as major events resulting from the interplay between mechanical forces and molecular signals. Morphological and functional changes to the growing follicle and to the surrounding tissue are required to produce oocytes capable of supporting preimplantation development to the blastocyst stage.
OBJECTIVE AND RATIONALE
This review will summarize the ovarian morphological and functional context that contributes to follicle recruitment, growth and ovulation, as well as to the acquisition of oocyte developmental competence. We will describe the changes occurring during folliculogenesis to the ovarian extracellular matrix (ECM) and to the vasculature, their influence on the mechanical properties of the ovarian tissue, and, in turn, their influence on the regulation of signal transduction. Also, we will outline how their dysregulation might be associated with pathologies such as polycystic ovary syndrome (PCOS), endometriosis or premature ovarian insufficiency (POI). Finally, for each of these three pathologies, we will highlight therapeutic strategies attempting to correct the altered biomechanical context in order to restore fertility.
SEARCH METHODS
For each area discussed, a systematic bibliographical search was performed, without temporal limits, using PubMed Central, Web of Science and Scopus search engines employing the keywords extracellular matrix, mechanobiology, biomechanics, vasculature, angiogenesis or signalling pathway in combination with: ovary, oogenesis, oocyte, folliculogenesis, ovarian follicle, theca, granulosa, cumulus, follicular fluid, corpus luteum, meiosis, oocyte developmental competence, preimplantation, polycystic ovary syndrome, premature ovarian insufficiency or endometriosis.
OUTCOMES
Through search engines queries, we yielded a total of 37 368 papers that were further selected based on our focus on mammals and, specifically, on rodents, bovine, equine, ovine, primates and human, and also were trimmed around each specific topic of the review. After the elimination of duplicates, this selection process resulted in 628 papers, of which 287 were cited in the manuscript. Among these, 89.2% were published in the past 22 years, while the remaining 8.0%, 2.4% or 0.3% were published during the 1990s, 1980s or before, respectively. During folliculogenesis, changes occur to the ovarian ECM composition and organization that, together with vasculature modelling around the growing follicle, are aimed to sustain its recruitment and growth, and the maturation of the enclosed oocyte. These events define the scenario in which mechanical forces are key to the regulation of cascades of molecular signals. Alterations to this context determine impaired folliculogenesis and decreased oocyte developmental potential, as observed in pathological conditions which are causes of infertility, such as PCOS, endometriosis or POI.
WIDER IMPLICATIONS
The knowledge of these mechanisms and the rules that govern them lay a sound basis to explain how follicles recruitment and growth are modulated, and stimulate insights to develop, in clinical practice, strategies to improve follicular recruitment and oocyte competence, particularly for pathologies like PCOS, endometriosis and POI.
Graphical Abstract